Zulay Henao 
is an actress who portrays Marianna on
Tyler Perry's Love Thy Neighbor
.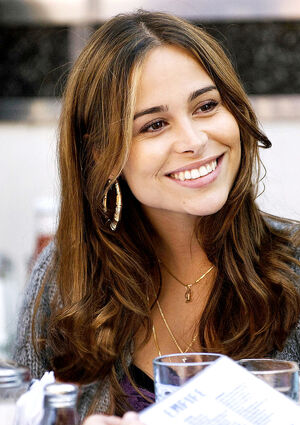 Biography
Edit
Zulay Henao was born in Medellin, Colombia, and moved to the States with her family at four years-old with her parents. Living in New Jersey, she knew from an early age that she wanted to be an actress. However, Zulay didn't follow the conventional route to fame. In fact, she took a pit stop and joined the United States Army after graduating high school. While stationed at Ft. Bragg, NC, she found time to study at Methodist College. After her three-year commitment to the military, Zulay decided to finally pursue her dream of performing. She enrolled at the New York Conservatory For Dramatic Arts, which she would attend for the next three years. It was during this time that her break came, landing the female lead in Feel the Noise starring opposite music sensation Omarion. Simon Fields, Sofia Sondervan and Jennifer Lopez produced this Columbia Pictures feature film. 
It was then that Hollywood insiders began to take notice of her irresistible beauty and talent. She was hand selected by writer-director Tom Skull to star in his horror feature Grizzly Park produced by Before the Devil Knows You're Dead's Belle Avery. Next would be the role that would really put Zulay on Hollywood's radar – a starring role opposite Terrence Howard and rising star Channing Tatum in Dito Montiel's Fighting. The film centered on Tatum, a young up and coming street fighter and his "manager" played by Howard. Zulay would play the love interest to Tatum and their chemistry was palpable. 
Zulay would go on to star in John Singleton's Takers alongside the star-studded cast of Paul Walker, Idris Elba, Michael Ealy, Hayden Christensen, Chris Brown, Matt Dillon, Zoe Saldana and Jay Hernandez about a group of professional bank robbers. Zulay also appeared in the follow up to Donnie Darko, S. Darko, alongside John Hawkes, Ed Westwick, James Lafferty and Daveigh Chase. Zulay also starred in the independent feature, and cult favorite, Boy Wonder, by award-winning director Michael Morrissey. The film centers on a traumatized boy who grows into a shy, determined teenager who patrols the mean streets of New York City, helping those in need and dishing out severe punishment to remorseless thugs. Zulay would also star in horror film Hostel: Part 3 as well as the sci-fi spectacle White Space from the VFX team behind The Matrix. 
Zulay is no stranger to the small screen either. Her TV credits include guest-starring roles on Mark Gordon's Grey's Anatomy, Lifetime series Army Wives, NBC's Law and Order: SVU and ABC's The Unusuals, as well as the TV movie of the week Racing for Time for Lifetime directed by Charles Dutton. 

She will next appear in Tyler Perry's Single Mom's Club alongside Amy Smart, Nia Long, Terry Crews and Eddie Cibrian.