Patrice Lovely
is a comic actress who portrays Hattie in some of Tyler Perry's plays and
Tyler Perry's Love Thy Neighbor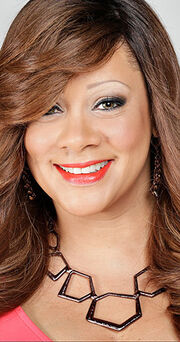 Neighbor
. 
Biography
Edit
Patrice Lovely, as Lovely happens to be her last name, it is indeed the impeccable description for this enchanting and immensely talented Alabama native. The Lovely Patrice now resides in Atlanta, GA. Her inimitable style and captivating antics simply charms audiences across the nation. The theater world has been taken by storm through distinctive character depictions that only the Lovely Patrice can portray and deliver. Although well-accomplished in almost every facet of the entertainment industry, she is definitely no stranger to the stage. She has starred in numerous stage productions including: A Good Man is Hard to Find; When a Woman's Fed Up; The Blacker the Berry, the Sweeter the Juice; Where Have all the Good Men Gone?; Lord, Why Do I Keep Choosing the Wrong Man; Stranger in My House; Confessions; Marriage Material; Tyler Perry's I Don't Want to Do Wrong, Tyler Perry's The Have and The Have Nots, and Madea Gets a Job. Tyler Perry produced Madea's Christmas, I Don't Want to Do Wrong, and Madea Gets a Job which are out on DVD.  She is also a highly dedicated acclaimed vocalist. Her stunning voice is so powerful; critics declare it an incomparable timeless instrument that baffles the mind. She has shared the stage with world renowned artists including Gerald Levert, Kelly Price, Tommy Ford, D.C.Curry, Melba Moore, Kirk Franklin, Lenny Williams, Glenn Jones, Dave Hollister and MANY more. She was also a yearly featured performer on the Trinity Broadcasting Network (TBN). The Lovely Patrice has recorded two gospel albums Glory Road and Seven Days.
For the past three years, the Lovely Patrice's talents have been dedicated to making young people smile all over the world as the hilarious, original and exceptional character known as "Mabelle" which is the first and only character of its kind to hit the stage. As part of the creative team with the UniverSoul Circus, this multi-talented artist made history by achieving the title as the first "African American" female Ring Master in the world. 
She believes in keeping God first in everything. She lives by this famous quote from the Bibles; "seek ye first the kingdom of God, and his righteousness, and all these things shall be added unto you." 
The Lovely Patrice has stood behind thousands of curtains that were opened to showcase never-ending talents. However, it is yet to be unveiled the impact she will have on the world.